Welcome to MISA!
Over the years, MISA has evolved from a small group of data processing professionals to a diverse group of managers, programmers, analysts, auditors, creative consultants and administrators with our partner vendors. We are employees of the
State of Michigan
with a common interest in finding innovative ways to apply new technology to perform our jobs more effectively and efficiently while improving State services for the citizens of Michigan.
You can learn more about the organization by viewing the entire site. Contact us if you have any questions, comments or want to become a
member
of MISA.
---
Do not delete these instructions

The heading of this section should be selected and formatted as a "Heading 1" (First drop-down menu on the bottom row of this editor window). All other text should be set as "Normal".
Important Announcements
May Luncheon - Information Technology Asset Management (ITAM)
Upcoming!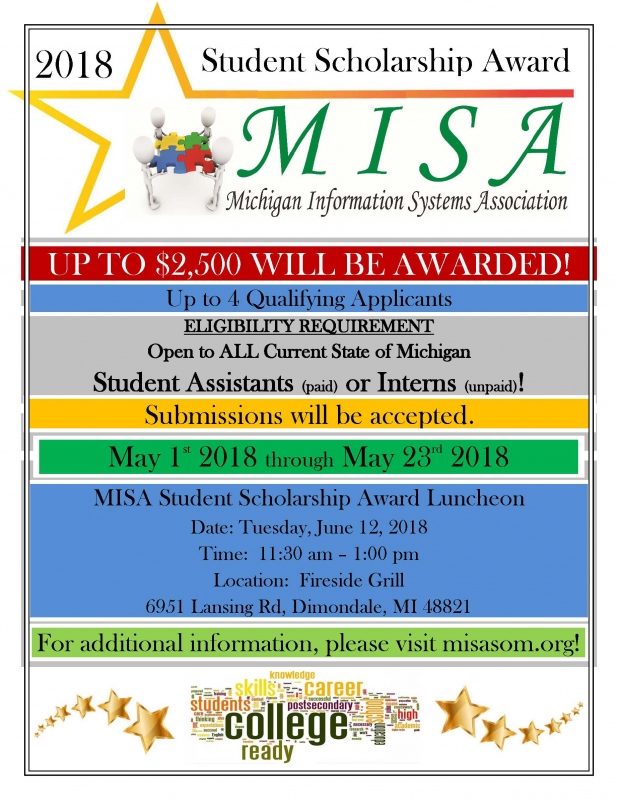 Vendor Registration Now Open for 2018 MISA Annual Conference!
State of Michigan Partners and Vendors - Register soon to join us for the 2018 Annual Conference at Great Wolf Lodge in Traverse City, MI! This year's theme is Partners: Leading the Way.

The conference will be held October 11-12th, with additional night's stays before and after the conference available at a reduced rate! See below for our new Sponsorship levels. If you have any questions or need assistance with registration, please contact us at misafallconference@misasom.org. Read this document for more information regarding registration and attendance.
Registration is open through July 14th
We look forward to seeing you there!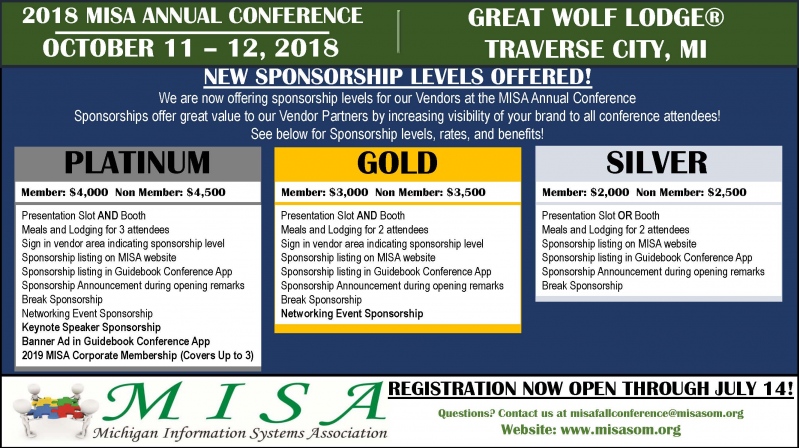 Ready to join the Michigan Information Systems Association?
Join now!
Other Recent News
2018 and 2019 MISA Annual Conference Dates and Location
The 2018 and 2019 MISA Annual Conferences will take place at Great Wolf Lodge in Traverse City, MI.

Save the Dates!
October 11th - 12th, 2018
October 10th - 11th, 2019

If you have any suggestions for the conference, contact us at misafallconference@misasom.org.
Membership Information
It is that time of year when MISA membership renewals happen. Below are the new 2018 membership rates.
New Membership: $35.00

Renewing Membership: $45.00

Commercial Individual Membership: $155.00

Commercial Corporate Membership: $310.00 (This covers up to three company staff.)
Thank you for your continuous support of MISA. Have a Great Year!